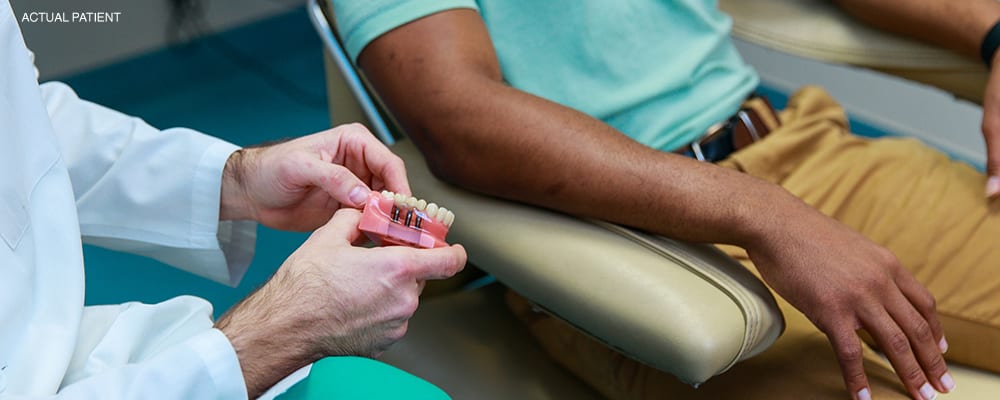 When a tooth is missing, there is no tooth root to stimulate the bone and prevent it from deteriorating, or crown to keep remaining teeth from shifting out of place. Dental implants are composed of a titanium post or implant that replaces the tooth root, and a ceramic crown that blends in with adjacent teeth and closes the gap. One of the many benefits of dental implants is that they mimic the look and function of your natural teeth.
Why Are Dental Implants the Preferred Method of Tooth Replacement?
Advances in technology have made dental implants a sustainable and desirable option for tooth replacement due to the many benefits they provide:
They are the only tooth replacement option that protects against bone loss following tooth loss or removal.

They function independently, eliminating reliance on adjacent teeth for support like bridges and partial dentures.

Research has shown that dental implants have a proven long-term success rate, often lasting the rest of a person's lifetime.

Once a dental implant is placed, it is rare that additional treatment is necessary. Bridges, partials, and dentures, on the other hand, often need to be replaced every 5 to 10 years.
Implants also help preserve facial structure, preventing bone deterioration that occurs when teeth are missing.
Benefits of Dental Implants
Designed to Last a Lifetime. Dental implants are made of titanium, which is a biocompatible material that fuses with existing bone providing an extremely strong, durable foundation for replacement teeth. Studies have shown that dental implants have a success rate of 95% or higher, outperforming other tooth replacement options.
Preserves Bone and Facial Structure. If left untreated, missing teeth can cause bone resorption or deterioration, which can change the shape of your jawline and face. By using dental implants as an artificial tooth root, bone is preserved, which can also protect the integrity of remaining teeth.
A Healthier Smile. Bridges and partial dentures are traditionally held in place by attaching to adjacent teeth, either by filing them down or hooking around them. This can damage the teeth and cause them to loosen over time. Dental implants stand on their own and do not compromise surrounding teeth.
Natural Appearance. Your surgeon will precisely insert your dental implants to preserve bone structure and enable your dentist to attach a custom-designed replacement crown that blends in with existing teeth. Dental implants function and are cared for just like natural teeth, leaving you with a full, beautiful smile and the ability to eat all of the foods you enjoy.
Are There Any Disadvantages with Dental Implants?
Despite the numerous advantages of dental implants, it is important to understand the potential disadvantages as well when making your decision.
Dental implant treatment is a surgical procedure that requires anesthesia and recovery time.

You may require more than one surgery if immediate implant placement is not possible following tooth extraction or bone grafting.

It takes several weeks for the implant to fully fuse with the bone, a process called osseointegration, before you can resume your normal diet.

Dental implants can be more expensive upfront but more cost-effective in the long run since they require less upkeep than other options.
How Will My Surgeon Determine Whether I am a Candidate for Dental Implants?
A major benefit of dental implants is that most patients are eligible for treatment, even if they have some bone loss. Your surgeon will conduct a thorough consultation to review your individual situation and determine if you are a good candidate for the procedure. Some factors taken into consideration include:
Your overall health and any underlying conditions (chronic conditions such as diabetes or high blood pressure should be well-managed)
The quality and quantity of existing bone to support implants (bone grafting may be recommended)

The number of dental implants required to restore your smile.
How Are Dental Implants Placed and Restored?
Your surgeon will create a customized treatment plan aligned with your needs and goals to optimize results. This may include plans for extracting teeth that will be replaced, placing a bone graft to add volume and strength to the jawbone for proper support, and inserting the dental implants.
In some cases, all of these procedures can be performed at once, allowing for immediate implant placement, while in others, you may need to wait a few weeks following tooth removal and bone grafting before the implant can be placed.
Implant Placement.

Before surgery, you will receive a local anesthetic to numb the area, along with anesthesia to keep you comfortable and pain-free. Your surgeon will make an incision in your gum and drill a small hole where the dental implant will be inserted. Once it is in place, a cover may be attached that sticks out above the gum line, or the gums will be gently closed over the implant to protect it as it fuses with the bone.

Abutment Attachment.

After the dental implant and bone have fused together, forming a strong bond, your surgeon will attach a connector to the top of the implant called an abutment. This is what your dentist will use to affix your replacement teeth and hold them securely in place. Your surgeon and dentist will work together to ensure the abutment is compatible with the size and shape of your new teeth.
Replacement Teeth. Once the abutment is attached, temporary replacement teeth may be used until your permanent replacement teeth are ready. The dentist will take an impression of your teeth and abutments in order to custom-design your new crowns and ensure the right fit, shape, and color. A dental technician will manufacture your replacement teeth, and the dentist will attach them to the abutments, leaving you with a full and functional smile.
Full Mouth Restoration: All-on-4 Dental Implants
For patients who are missing most or all of their teeth, All-on-4 dental implants can be a preferred alternative to traditional dentures. Dentures often slip out of place, are uncomfortable, and must be replaced or refitted every few years. Because dentures fit over the gums, they do not stimulate the bone, and bone and tissue loss can occur.
All-on-4 dental implants are used to replace a full arch of upper or lower teeth using as few as four implants. The implants not only hold replacement teeth securely in place, but they also help prevent bone resorption and restore your smile in a single procedure, allowing you to go home with a full set of teeth the same day.
Why Choose Bay Area Oral Surgery?
The doctors at Bay Area Oral Surgery have extensive knowledge, training, and experience in providing patients with effective surgical solutions to improve their oral health. We work with you to create a treatment plan that fits your needs, goals, budget, and lifestyle while delivering optimal results.